By: Rajeev Roy
There exists a logical alignment between Lean Management and Six Sigma methodologies (LSS for short), and the goal of improving an organizations Customer Experience (CX).
Lean Management methods always begin with identifying what a Customer values, or is willing to pay for.    Six Sigma methodology defines very specific, quantified and prioritized customer requirements, known as CTQs (Critical to Quality) and all improvement efforts are focused solely on those metrics.
Recently popular Customer Experience improvement methods include tools such as Customer Journey Maps to document the emotions a customer may feel while engaging with a particular business across the entire customer journey.   From many LSS practitioners, this is a very familiar approach.  The LSS methodology enables a company to dissect its business processes at the granularity needed to truly understand how they are delivering to their customers, through tools such as Value Stream Maps.   Further LSS goes beyond cost to understand the significance of other factors as they relate to delivering on customer needs, outside of solely product or service price.  
So, simply stated, Lean Management and Six Sigma methodologies are ideal improvement methodologies to leverage for improving a business' customer experience.
CRG CUSTOMER EXPERIENCE IMPROVEMENT METHODOLOGY
CRGs CX improvement methodology includes a suite of other integrated tools and methods, including Customer Journey Maps, Customer Interaction Maps, Process Value Stream Maps, Voice of Customer Surveys and Interview Guides to bring serious rigour to solving Customer Experience issues.
CUSTOMER JOURNEY MAPS
What are Customer Journey Maps?  They are visual illustrations that document the emotions a customer may feel while engaging with a particular business across the entire customer journey from the start of their interaction, to the end of their journey.   
The maps are typically high level and depict the end to end process through 3 to 5 major phases of the value stream.   The author of the map must 'tune in' to what a customer may feel emotionally and how they may react,  throughout a process.   This applies to the emotions and actions of customers who experience a seamless process, as well as those customers who experience the numerous potential issues and challenges a process could encompass.  
The concept behind Customer Journey Maps are to bring to focus the significance of emotional consequence and action when a company fails to deliver on a commitment to their customers in a transparency that covers the end to end process in order to prioritize where to deliver improvements.

CUSTOMER INTERACTION MAPS
What are Customer Interaction Maps?  They take Customer Journey Maps to the next level by detailing each of the value stream elements in the customer journey at an activity level, however focusing only on those activities which interact directly with the customer.  
The Customer Interaction Map clearly displays each and every touch point with the customer, all of which are opportunities to  either delight the customer, or negatively impact their customer experience.
Understanding the customer interaction points at this level of detail will ensure there are no hidden risks in a process and will give a business the insight required to truly control the experience they deliver to their customers.

PROCESS VALUE STREAM MAPS
What are Process Value Stream Maps?  A standard LSS tool, Value Stream Maps (VSMs) can be used to illustrate both the quantitative and qualitative elements of a business process.   This includes information flow, process flow and material flow, along with operational information such as # of operators, inventory levels, cycle time and error rates.
CRG Process Value Stream Maps are developed at the activity level, and build on Customer Interaction Maps to include all business process activities.  This includes both activities that engage with the customer directly within a business process, as well as those business processes and activities that do not interact directly with the end customer.  
The Process VSM provides the most complete and data rich view of the process and will enable an organization to understand what, where and how a business process can be improved, from end to end, to deliver on the desired customer experience.

Ultimately, the use of the 3 mapping techniques outlined above (Journey, Interaction and VSMs) within CRG's CX Improvement Methodology, along with the use of data collection, analysis  and voice of customer capture techniques, will help an organization improve the experience they deliver to customers.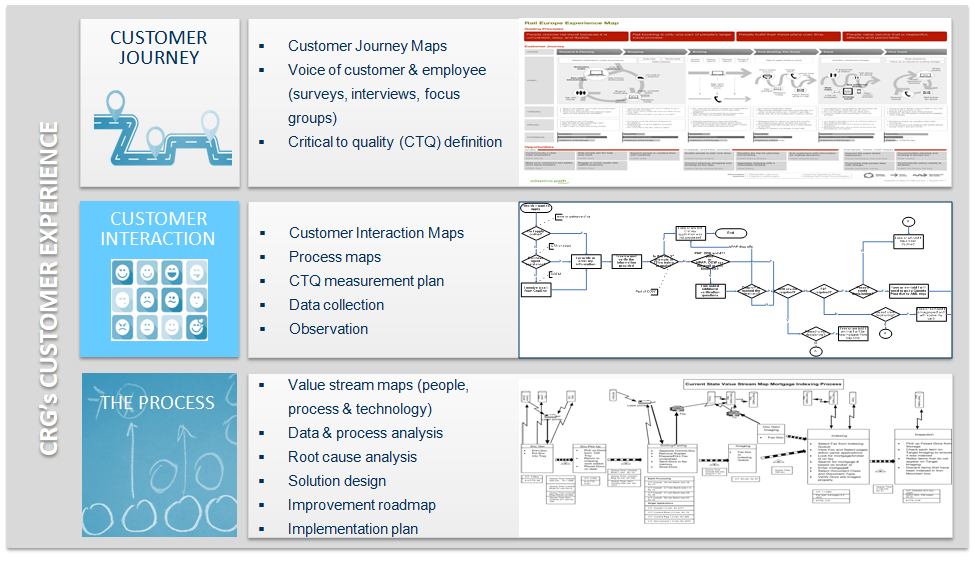 The CRG CX Improvement Methodology ensures the entire customer value stream is understood and optimized: More specifically this speaks to any and all steps across the process that can impact the customer:
Initiation: where customers enter any process element
Back-end: fulfillment activities that deliver product/service to a customer
Post-Fulfillment: post delivery service, maintenance
This full view provides the overarching value of the journey
Hidden Value in Back-End & Post-Fulfillment
Many organizations look to improve the client facing sales, intake & application experiences, but fail to focus where the majority of the customer experience is realized (back-end and post-fulfillment)

Balance Is Critical To Success
expertise + the art of delivery creates this balance
CRG understands the impact of balancing the delivery of an enhanced customer experience with achieving business objectives (ex., revenue, cost, risk tolerance).

Without balance, there is no way to ensure a consistent customer experience and maintain bottom line objectives
CRG's capabilities successfully position our team as essential conduits between each area: we remove communication barriers, create transparency and align goals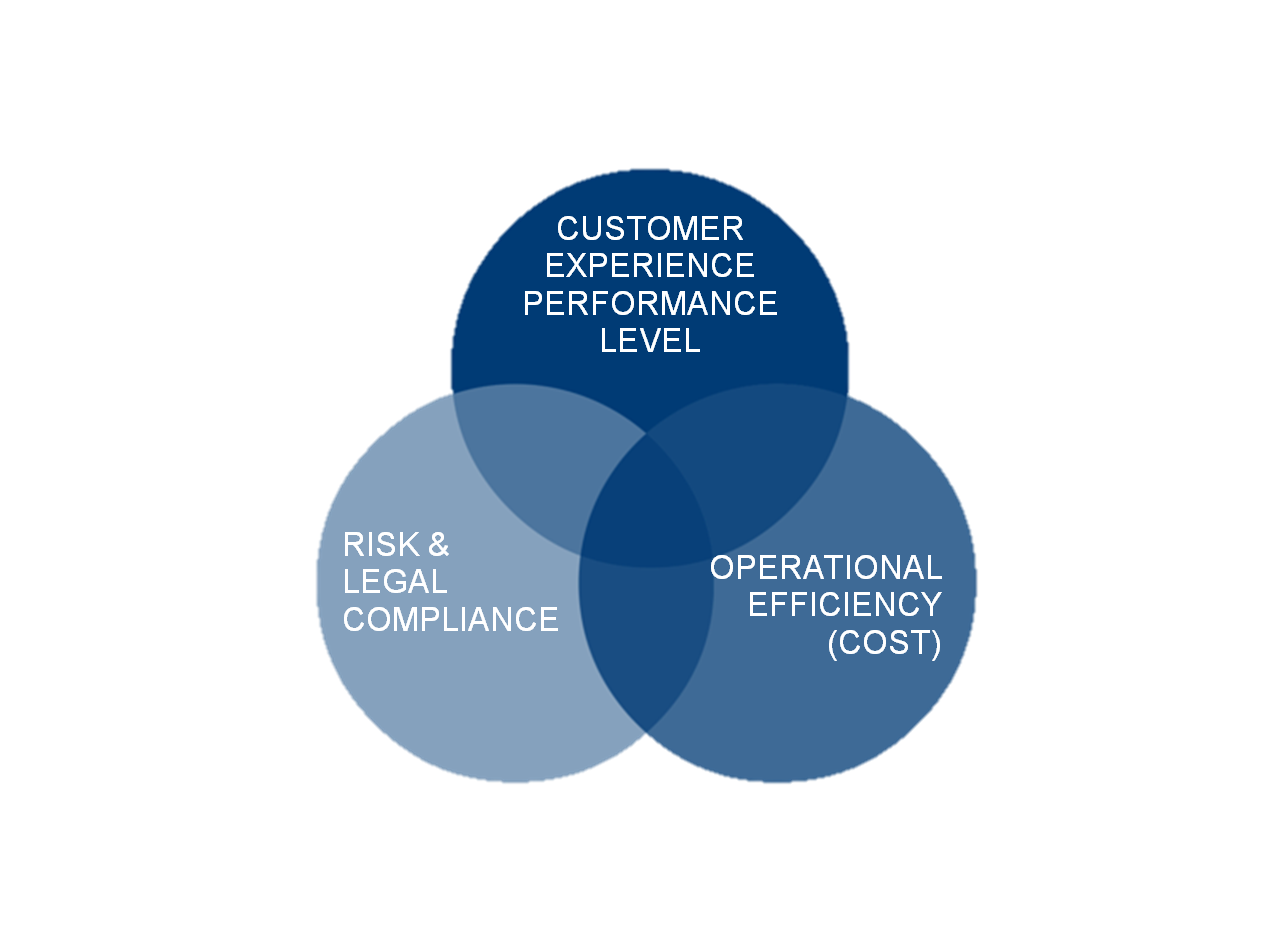 If you would like to learn more or have a customer experience improvement you would like to make, give us a call.