By: Jason Mattka
Operational Improvement: Focus on people, process and SIMPLE tools first; then invest in the Right Technology
When businesses choose to improve their existing operations, they do so to achieve a specific business objective whether the decision is driven by process inefficiencies, or based on customer feedback. When the decision is made to make a significant improvement to an operation, approaching it the right way can reduce wasted effort, reduce the investment required, deliver the improvements sooner, and deliver a better employee and customer experience.
 The problematic approach to making operational improvements:
Organizations often try to do everything at once; hire / retrain employees, design or reengineer existing processes and procedures, and significantly change existing technology. The challenge with this approach is that technology decisions are often being made before understanding specifically how they will impact the process or customers. This often results in significant issues, including:
Negative Employee or Customer Experience – Significant increase in customer complaints when new technology is more complex or lacks functionality that customers of the process considered critical;

Negative Process Performance – Technology has the opposite effect of what was intended, simplifying parts of the operation, but introducing new work in other parts of the process or introducing new process delays;

Increased Delivery or Support Costs – Increase in costs as new technology requires significant upfront costs to implement and longer-term costs to provide support, or maintain the technology;

Delays in Meeting Improvement Objectives – The time it takes to implement a new technology solution is often significantly longer than changes to people or process. Waiting for the technology to be implemented can significantly delay the time it takes to realize the original objectives of the operational improvement.
The following are examples of actual projects and results where CRG was engaged to address issues caused by making technology decisions prior to understanding the process:  
Project 1:
o   Background: To simplify end-to-end HR processes (onboarding, compensation, departures, etc.), a tier one bank moved from their existing HR system to an end-to-end solution designed and supported by a HR technology vendor.
o   Impact: Once implemented, the HR department received complaints from across the organization. While the technology was improved, there were significant challenges reported when managers were unable to complete simple HR activities using the new system.
o   How it was addressed: CRG was engaged to determine root causes of the complaints and provide recommendations to significantly enhance user support, simplify end-to-end processes, and develop workarounds to address the introduced complexity.
Project 2:
o   Background: To simplify and automate IT Service Management activities (e.g., tracking technology changes related to change records), a tier one bank elected to move to a new IT Service Management application.
o   Impact: Mid-project it was determined the selected application did not provide the promised capabilities and would significantly increase the overall work to manage a number of IT Service Management processes.
o   How it was addressed: The decision to move to the technology was reversed and the entire project had to be restarted. CRG was engaged to capture detailed process requirements, validate and recommend alternative technologies to deliver upon the desired IT Service Management improvements.
Our recommended approach to operational improvements:
 Whenever an organization is looking to improve a process, even if there is an obvious technology solution available, CRG recommends the following high-level approach: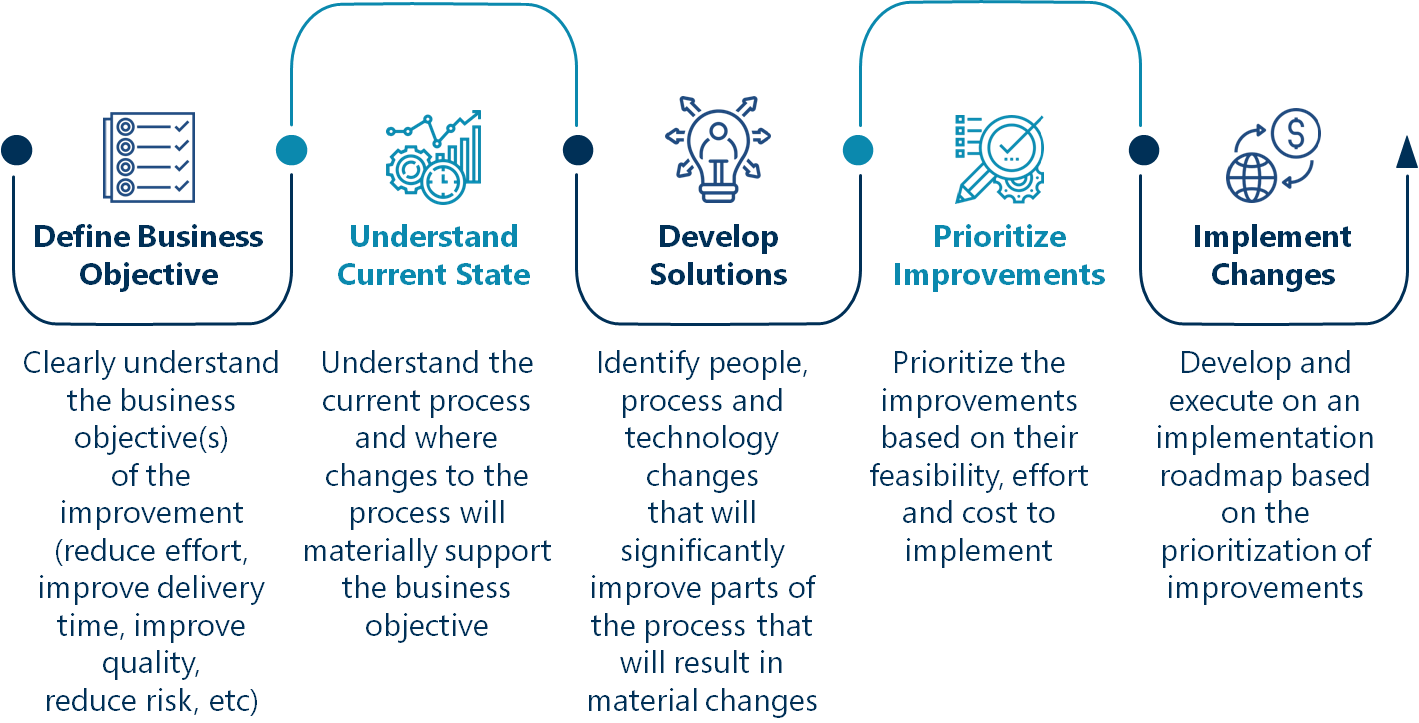 This does not replace the need to leverage technology to improve operations. But on every project CRG has been engaged on, we have identified people and process changes that can be implemented in significantly less time, and typically meet the objectives of the improvement without introducing a significant and costly technology change.  Technology investments can then be more efficiently targeted towards areas which drive the highest return on investment, informed by the process details.
How is this done effectively?
The following is an example and results of a project CRG delivered taking the recommended approach:
Background:
CRG was engaged by a Capital Markets team to transition trade execution across the fund to a centralized trade desk. At the time of the project, it was assumed the Order Management System (OMS) technology could not support trade execution of the product. A decision was made to assess the current process and centralize the process using existing tools instead of waiting for the OMS to have the functionality, or trying to work around the issues in the current version of the OMS..
To meet this objective, CRG developed and executed the following approach: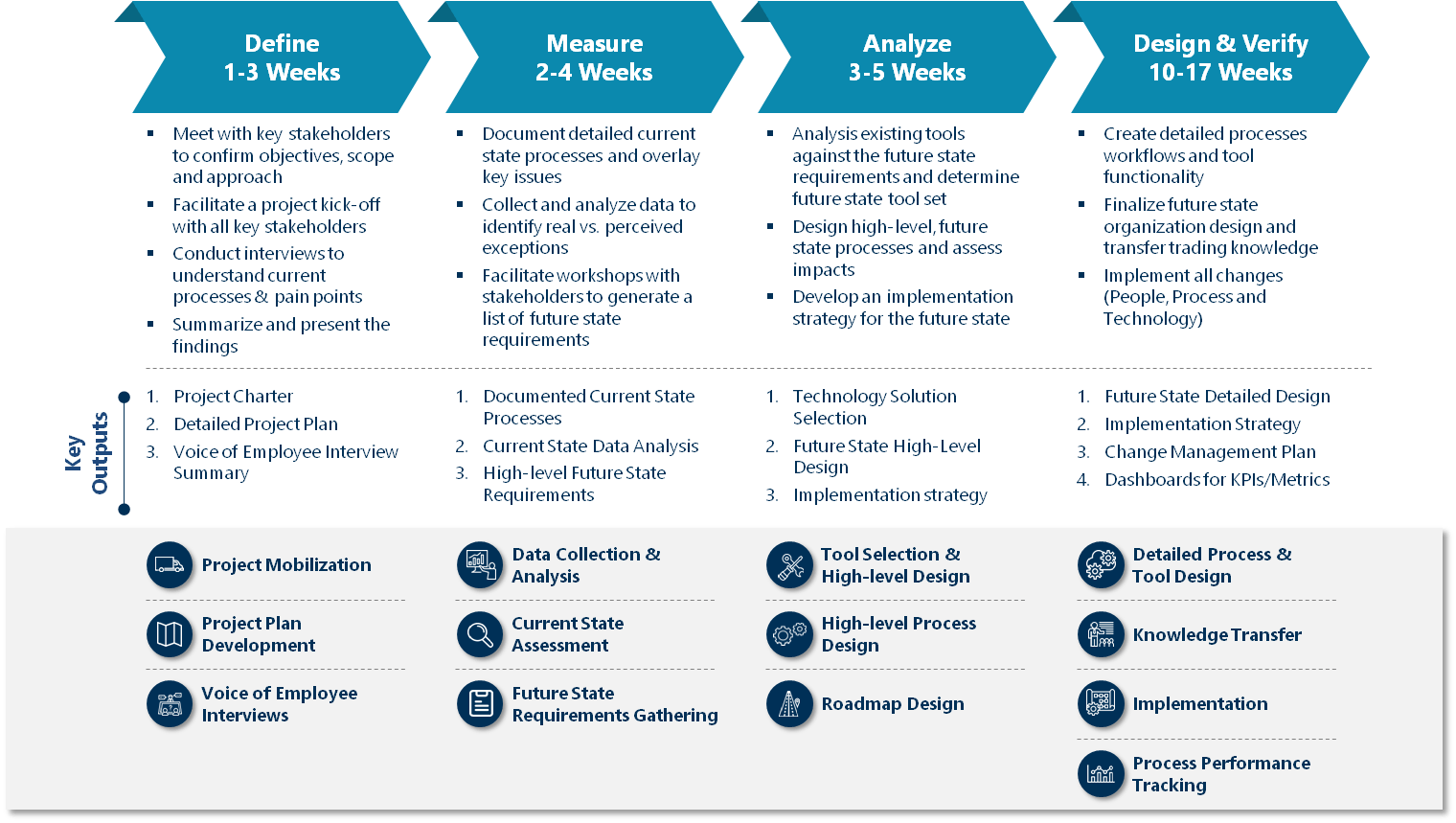 Results:
Realized improvements 1 year earlier than a technology solution would allow - The customer was able to meet all of their objectives in centralizing the trade execution (reduced risk and reduced trade costs), without a significant technology change, in 7 months. It took an additional year to transition the work to the desired OMS technology.

Avoided significant project delays - The process review uncovered specific execution requirements unknown during the initial OMS technology assessment.These unknown requirements would have resulted in significant project delays for a new technology solution but were instead effectively managed by simple process and tool changes.

Improved Customer Experience – This approach included the Capital Markets team (i.e., the customer) in both the process review and design, allowing them to directly influence changes. This created a sense of ownership in the solution, significantly simplifying change management and reduced the effort to implement the solution.

Recognition in success of the approach – Following the project, the customer requested CRG's support in standardizing the approach. This approach was then applied to centralize all remaining products in advance of any technology changes.  
Additional Considerations:
 1.   Identify & limit "Throw-away" work – When making decisions on tools or enhancements, be sure to understand the cost of implementing and supporting these changes vs. what the end state technology will deliver. If there is a significant investment required that will only last for a limited time, it may make sense to identify an alternative solution that may not offer as much benefit, but will reduce wasted investment. 
2.   Have clear objectives –A clear understanding of project objectives reduces time spent evaluating improvements that do not directly support the objective. In the example provided the objective was to reduce risk and not negatively impact performance, but there were frequent discussions on how to automate the process and improve performance. Instead of addressing these opportunities, they were logged and prioritized for future improvement initiatives as they were not tied to the key business objective.   
3.   Use simple tools to pilot requirements – Not only does this approach provide the benefits listed, but using simple tools (e.g., spreadsheets, white boards, email / pdf templates) will allow for piloting solutions, testing specific designs and data requirements with customers. Not only will this reduce time to implement the changes, but it will simplify the requirements gathering process for a technology solution by having a requirements driven working model in place.