This August marked 15 years since Adam Godfrey and Rajeev Roy co-founded CRG. What began as a 2-man operation has since grown to a firm of multiple passionate and talented business professionals. To commemorate our 15-year anniversary, CRG has launched a year-long campaign to highlight how the firm has evolved, share CRG success stories, and provide a look into the future of our business.
This is the first of 5 blog posts in our Employee Interview Series - over the coming months, 15 CRG employees will be highlighted and will share their experiences. We'll be sitting down with employees across different levels and tenures to talk about what CRG means to them and how the firm has supported their career development.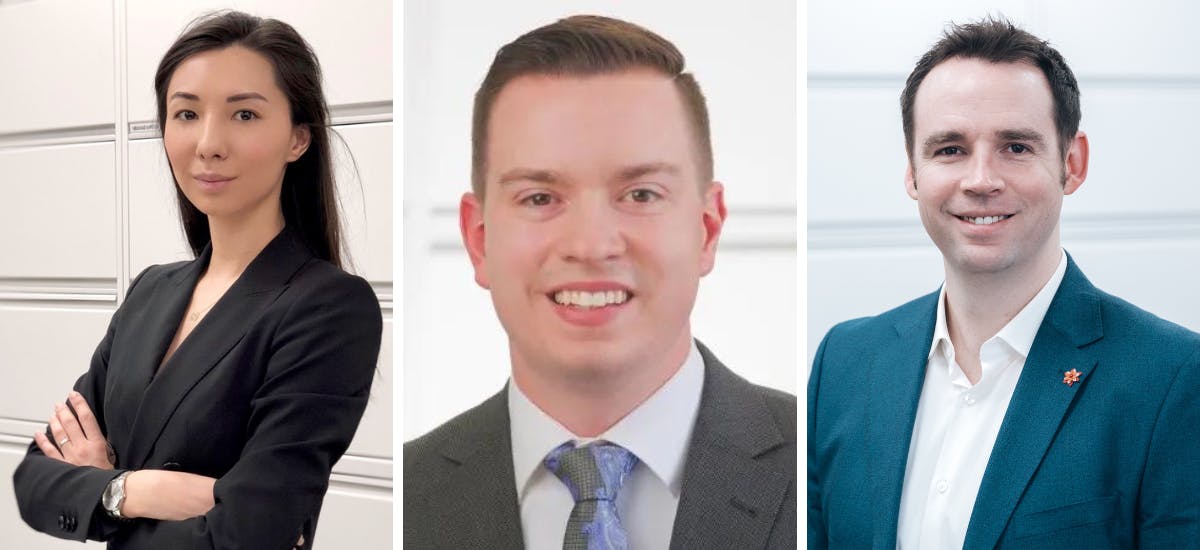 Up first, we talked to Kundyz, Mike, and Jason.
KUNDYZ BERIKBOLATOVA
Senior Management Consultant
Kundyz joined CRG in 2019 and currently works as a Senior Management Consultant. Before CRG, Kundyz worked in Management and IT Consulting Services. In her free time, she enjoys reading social and neuroscience research papers, as she believes that understanding humanity's evolution and desires are a key to being a successful problem solver.
What is your favourite thing about working at CRG?
At CRG, I am given an opportunity to work independently, drive decisions and take responsibility. Moreover, I appreciate that I can contribute to the growth of the firm by supporting talent acquisition and business development processes.
What CRG value resonates with you the most?
Being Authentic and Candid is one of the CRG values that resonate with me the most. CRG allows me to be my true self and encourages me to leverage my strengths and work on my weaknesses.
How has CRG supported your career development?
The most significant contribution CRG has had on my professional growth is giving me the opportunity to work with skilled and talented professionals and teams. The amount of support and mentorship I get at CRG from my colleagues is tremendous. Aside from the people and support, it is all the methodologies and tools that CRG has developed over the years that have most supported my career development.

MIKE ANDERSON
Executive Management Consultant
Mike is an Executive Management Consultant at CRG and joined the firm in 2014 as a Management Consultant. He is a Chartered Professional Accountant (CPA, CMA) and a Lean-Six Sigma Green Belt. Outside of work, Mike has a passion for curling and represented Canada in 2 World Championships, winning the gold medal at the 2018 World Mixed Curling Championship.
What is your favourite thing about working at CRG?
I am part of a team that is very focused on doing their job to the best of their ability. That motivates me to bring my best to work. But beyond the work, it's a group of great people I enjoy spending time with. In consulting, the work can change in an instant, but being surrounded by a team that supports each other, fights through adversity together, and celebrates achievements together is a constant at CRG. It's the main reason I am still here after almost 9 years.
What CRG value resonates with you the most?
Being respectful, supportive, and empathetic. The best outcomes are delivered when respect and collaboration are prioritized. This holds true when working with our clients and with the internal CRG team. I believe part of my job is to learn and understand a person's experiences and how those experiences influence their ideas on whatever I am working on. Incorporating that understanding is critical to achieving buy-in, and without buy-in, even the best ideas and solutions will fall flat.
How has CRG supported your career development?
CRG has supported my career development by teaching me to embrace challenge and ambiguity, and providing support at the leadership level on every engagement. The team is continually challenged to achieve complex objectives in changing environments with new people. Knowing I have the runway to take different approaches and try new things to deliver the best results and experience for our clients has done wonders for my skillset and allowed me to grow as a consultant and a person.

JASON MATTKA
Principal
Jason is a Principal at CRG and joined the team here in 2010 as a Management Consultant. He is Lean-Six Sigma Black belt certified and has more than 15 years' expertise in business process improvement and transformation initiatives. Jason is also an avid traveler, with the goal of seeing all the modern wonders of the world with his family.
What is your favourite thing about working at CRG?
Working on challenging problems with committed co-workers and engaged clients is what I like most about working at CRG. After more than 10 years of consulting with CRG, I've found the continual evolution of technology and business practices creates new, interesting operational problems in organizations. Being able to solve these problems with a team of consultants that I can trust to perform excellent work, and clients that are very engaged and collaborative in the solution, has made for a very fulfilling career at CRG.
What CRG value resonates with you the most?
It is great to work in an organization where key decisions, internally and on projects, are fact-based whenever possible. In my experience, this creates an environment where the team is comfortable to develop new ideas and challenge decisions with data and facts that will support achieving real results.
How has CRG supported your career development?
I joined CRG as an entry-level consultant, with limited experience in practicing Lean Six Sigma (LSS) operational improvements. Since joining CRG, I have been given progressively more challenging engagements and increased responsibilities, building my confidence and capability to deliver quality reports and presentations to clients. This progression has been recognized with multiple promotions, most recently to a Principal role in the firm, increasing my responsibility to be overseeing multiple projects concurrently and the opportunity to coach and train other consultants in the firm. In addition, I've received both Greenbelt and Blackbelt certifications with CRG, getting ample opportunity to apply these methodologies and become an expert LSS practitioner.
This is the first of 5 employee interview articles that CRG will publish to celebrate our 15-year anniversary. Stay tuned for the next article, which will be posted in February.

If you are an innovative, curious, and passionate business professional, or are looking to start your career as one, CRG is currently hiring across all roles. Take a look at CRG's current vacancies here.

Check out why CRG was named A Best Workplace for Professional Development in August here!