We continue with our 15-Year Anniversary celebration by sharing the stories of CRGers to give you a snapshot of our culture, our people, and what makes us different from a traditional management consultancy firm.
This is the second of 5 blog posts in our Employee Interview Series. We're sitting down with employees across different levels and tenures to talk about what CRG means to them and how the firm has supported their career development.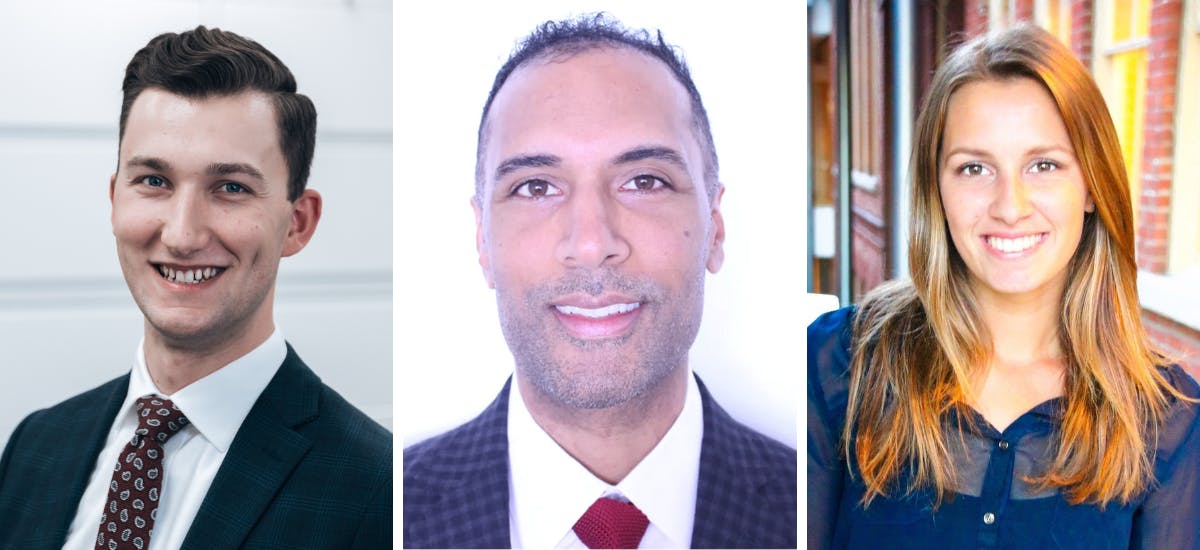 For the second interview, we talked to Graham, Raghu, and Meghan.
Graham Joiner
Executive Management Consultant
Graham is an Executive Management Consultant at CRG who joined the firm in 2018 as a Management Consultant. Before CRG, Graham worked in Assurance Services with clients in the Financial Industry. Outside of work, Graham is an avid traveller, Toronto sports fan, and enjoys exploring Toronto's food scene with friends.
What is your favourite thing about working at CRG?
CRG prides itself on our collaborative approach to problem-solving and client engagement. Commitment to this approach extends across all CRG team members, resulting in an engaging and motivating work environment. Working closely with the CRG team and our clients to solve complex problems and develop and implement solutions has been extremely rewarding.
What is unique about the environment at CRG?
CRG has created an environment of like-minded individuals committed to supporting each other. Monthly socials and team retreats have helped us become close-knit and we genuinely enjoy spending time together. In my 4+ years at CRG, our team has doubled while our culture has remained strong.
How has CRG supported your career development?
Since I joined the firm as a Management Consultant, CRG has allowed me to play a significant role in project execution and delivery. My projects and responsibilities have evolved in complexity, enabling me to develop and evolve. CRG has supported my career development through sponsored training programs (e.g., LSS Green Belt certification, Leadership and Communication training) as well as direct feedback. My progression has been recognized by CRG leadership, illustrated by my progression in seniority and recent promotion into a leadership role.
Raghu Balasa
Principal
Raghu is a Principal at CRG and joined the firm in 2022. Raghu is a seasoned strategy and operations professional with over 15 years of experience across management consulting and capital markets. Raghu has a unique blend of experience in problem identification, strategy development, and execution for companies of all stages of the revenue/product lifecycle. Raghu's experience spans from leading regulatory transformation projects to helping launch new businesses at tech start-ups. In his spare time, he enjoys spending quality time with the family, experiencing new cuisines, and visiting 'off the beaten path' locations.
What is your favourite thing about working at CRG?
My colleagues are extremely bright, which creates a constant learning environment. Since our working model is project and team-based, I get the opportunity to work closely with different colleagues every few months and am always impressed with how much I learn from these interactions.
What is unique about the environment at CRG?
The firm provides ample opportunities for all employees to step out of their comfort zone by leading critical firm initiatives and tackling client work in new practice domains and industries. The company caters to individuals with an inquisitive mindset, ensuring a rewarding experience.
How has CRG supported your career development?
CRG has provided opportunities for me to take on new challenges and responsibilities, and the company places a strong emphasis on employee growth. As well, the company offers resources such as training programs, mentorship, and regular performance evaluation to ensure career goals are reached.
Meghan Soave
Senior Management Consultant
Meghan is a Senior Management Consultant at CRG and joined the firm in 2021 as a Management Consultant. Prior to CRG, she worked in the Telecommunications industry as an Operations Project Manager. In her free time, she enjoys spending time outdoors, travelling, and honing her culinary skills.
What is your favourite thing about working at CRG?
CRG has a very collaborative approach to decision-making, ensuring a strong culture where everyone feels heard and valued. Regardless of role, every employee is empowered to contribute and voice new ideas in an open, trusting environment; highly beneficial for someone early in their career.
What is unique about the environment at CRG?
The firm culture is results-driven while being human-centric. Empowered employees drive results. This allows for career and skill development, without having to sacrifice personal goals. From my experience, this perspective is very rare, especially in the consulting industry.
How has CRG supported your career development?
In the past 20 months, I have been supported to develop my skillset through unique project opportunities, mentorship, and actionable performance feedback. This approach has allowed me to apply my skillset to new areas, learn from experienced professionals, and understand the steps needed to progress my career.
This is the second of 5 employee interview articles that CRG will publish to celebrate our 15-year anniversary. Stay tuned for the next article, which will be posted in the coming weeks.
Check out why CRG was named A Best Workplace for Professional Development in here!